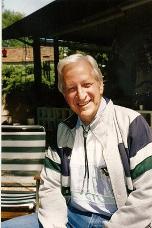 Carroll L. Hoyt, former CEO of Nekton Inc. and geologist in the Ventura office of General Petroleum (Mobil Oil) Corp. from 1957 to 1967, died of cancer April 1, 2009, at his home in Hemet, California, at the age of 82. As a Mobil oil scout, he was a regular attendee at the Coast Geological Society Thursday lunches at the Pierpont Inn in Ventura during a time of intense oil exploration in the Ventura Basin.
After leaving Mobil and working for several years as a stock broker for Walston Coulstock, Carroll was asked to be the President and CEO of Nekton, Inc., a company engaged in marine geophysical surveys and geology, especially in the Santa Barbara Channel and the Borderland region to the south. He served in this capacity at a time when marine exploration was proceeding at a high pitch off the California coast, and he commonly referred to the submersibles used by Nekton as "jeeps of the sea."
Carroll was born in Montesano, Washington, on April 5, 1927 and served in the Navy from 1943 to 1945 as an instrument technician. After the war and after completing his GED, he enrolled in the Department of Geology at the University of Washington, receiving his BS degree in 1955 after taking a summer field course in geology offered by Oregon State College. He undertook a MS thesis under the legendary J. Hoover Mackin, in which he mapped a Columbia River basalt unit that he named the Hammond Sill. Prior to his field mapping, it was assumed that the Columbia River basalts are all flows, but Carroll identified critical places where the basalt could be shown to intrude overlying sediments, including a now-famous exposure in Corbaley Canyon near Waterville, Washington. His paper, published in Northwest Science in 1961, was controversial. But in later years, his interpretation was vindicated, and intrusive relations ("invasive flows") are now widely recognized in Columbia River basalts throughout the Columbia Plateau and Coast Range.
After retirement, Carroll returned to an early interest and began re-examining critically the hard geological and geophysical evidence for plate tectonics, finding that many of the assumptions in the modern literature are not fully based on factual data. At the time of his death, he was completing a book on this subject, The Architecture of Geodynamics, that is available for download on this site..
Carroll also published a book entitled Adventure Short Stories, which included accounts of his experiences as a Mobil field geologist in Alaska during the 1960s (Author House, Bloomington, IN, 2008)